DETAILS
DATE:
Wednesday-Saturday, June 14-17, 2023
LOCATION:
Daniel Springs Baptist Encampment
COST:
The registration fee is the same for all accommodations:
$165 per camper from April 15 to May 28
$200 per camper starting May 29*
*late registration; Daniel Springs t-shirt not included for late registrants
CAMP PASTOR:
Todd West, Pastor Connections Coordinator, BMA of Texas
Find the Counselor Information Packet toward the end of this page.
REGISTRATION
Daniel Springs is in the process of switching to a new website and registration system. Please read the following letter from the camp, which includes important instructions about registration this year:
Details about Medical Release Forms, Background Checks, and Safety Training are included in the letter above. Please read thoroughly.
NOTE:
Shirt size is required with registration; this will be for Daniel Springs camp t-shirts. Girls Discipleship Retreat shirts cost extra (see t-shirt order form below, under Retreat T-shirt).
ACTIVITY SIGN-UP
We have Queens Day activities for girls and breakout sessions for both girls and adults! To give our session leaders accurate headcounts, complete the form below by May 31st. We need one form submitted per girl or adult.
PROJECT
95% Missionary AJ: Unreached People Group Missions (UPG)
5% GMA General Fund
GOAL: $15,000.00
Please send project money by May 15 to our National GMA Treasurer:
Mandi Townsend
6 Broadmoor Drive
PROJECT FUNDRAISING AT RETREAT: Silent Auction, Officer Competition, Candy Grams, Grab Bags, and Other Sale Items.
PROJECT NOMINATIONS: Please pray about our 2023-2024 National GMA Project! If you have a nomination, please submit it by 1:00 Thursday afternoon of camp to Lane Flynt. Each nomination should be signed by a counselor and should include the name of the church and the cabin number.
GMA PROJECT "SPECIAL PRIZE":
The National GMA Officers would like to recognize girls who go above and beyond to raise money for the National project this year, so if you have individual girls in your GMA group who work very hard to raise a significant amount of money for the project, please let us know!
RETREAT T-SHIRT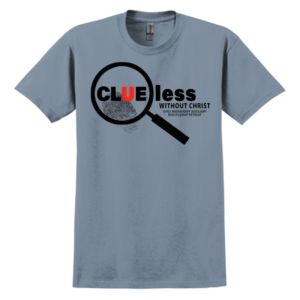 T-Shirts will be sold for $15.00 . They will be light grey-blue with a magnifying glass, the camp theme, and National GMA Camp on the front. Order forms are attached toward the end of the counselor packet found here and will be due May 15th. Send order forms to:
THEME DETAILS
THEME VERSE:
"And ye are complete in him, which is the head of all principality and power."
Colossians 2:10, King James Version (KJV)
THEME SONG:
"Who You Say I Am"
by Hillsong Worship
Wednesday
Romans 3:23 & 5:8, 1 Timothy 1:15
Thursday
John 3:16, John 1:12, Romans 10:9
Friday
John 10:27, Matthew 4:19, John 12:26
Saturday
2 Corinthians 5:20, Matthew 28:19-20
CAMP SCHEDULE:
A tentative schedule will be posted as retreat approaches.
MORE INFORMATION:
Please read the following document thoroughly for all camp information and forms.
National Director of Youth Auxiliaries: